Garage Door Spring Repair Chesapeake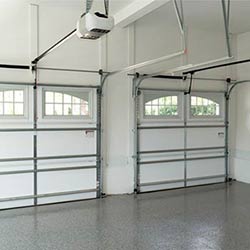 At Garage Door Repair Chesapeake, we stay up to date with technological developments in the garage door industry, carrying the biggest selection of reputable products in Chesapeake, Virginia.
All our garage door springs are coated with a clean, black protective finish in order to prevent corrosion. We recommend:
torsion springs - We are your torsion spring experts! Torsion springs are manufactured with oil-tempered wire to further avert corrosion.
extension springs - Double-looped, open-looped, and with clipped ends, they're oil-tempered for the utmost in resilience.
roll-up door springs - For roll-up garage doors, our roll-up spring creates the least level of noise. Hard-drawn and oil-tempered, for longer life.
CALL NOW! (757) 414-2314
If your garage door goes out of whack, you may soon need to repair your garage door spring. Hire the professionals on staff here at Garage Door Repair Chesapeake, and one of our professional garage door repair technicians will assess the nature of your problem, and we'll get your garage door repaired in just a jiffy.
Garage Door Repair Chesapeake's especially qualified garage door technicians apply skill, talent, and advanced technology and equipment to work properly and safely. Whatever your garage door issue turns out to be, we'll find the best solution for you.
Because we maintain a 24-hour call-back policy, if there is anything else requiring our further attention, you can ask us to return right away to assist you.
CALL US ANYTIME DAY OR NIGHT! (757) 414-2314